About
Bill's Package Store – Clarksville, TN / Ft. Campbell, KY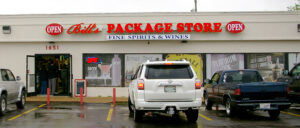 Bill's Package Store has been "lifting spirits" and servicing the Clarksville, TN / Ft. Campbell, KY area for over 50 years. As a gentleman from Nashville once put it, "You Gotta Go To Bill's!" Bill's Package Store offers some of the most unique and hard-to-find items in the area. With over 75 unique brands to choose from, there's really no telling what you might find at Bill's. Every year, the owner himself visits stills and hand-selects a large portion of his inventory, bringing back the best of the best every time. At Bill's Package Store, we'll treat you like family. We wouldn't sell you anything that we wouldn't serve on our own tables at home.
"The store itself is not the most glamorous in terms of appearance, but we take pride in our large inventory, our competitive pricing, and our friendly and knowledgable staff members." – Billy Brown, owner of Bill's Package Store
Bill's Package Store offers superior quality, top-shelf brands of your favorite liquors at the lowest prices. Our huge selection of inventory makes it easy to find exactly what you are looking for. Not sure what to buy? Our friendly and knowledgable staff can help you select the perfect spirit for any occasion. Bill's Package Store will also take you beyond the label – exploring our many varieties of fine wines. Whether you are seeking a classic merlot, light-bodied white, bubbly champagne, or world-class regional wine, your selection is brought to you with convenience and unique discounts.
For more information about our selection please give us a call at (931) 647-5566, contact us here, or stop in to see us at 1651 Fort Campbell Blvd, Clarksville, TN.