Spirits
Bill's Package Store offers superior quality, top-shelf brands of your favorite liquors at the lowest prices in Clarksville, TN. Our huge inventory (over 8,000 bottles!) of Brandy, Bourbon, Whiskey, Vodka, Rum, etc. makes it easy to find exactly what you are looking for. Our friendly and knowledgable staff can help you select the perfect spirit for any occasion. Don't see what you're looking for? Give us a call! Also, be sure to follow us on social media to keep up with the seasonal spirits we offer throughout the year. Check out our large variety of spirits listed below.
Check out Bill's Buzz for our favorite cocktail recipes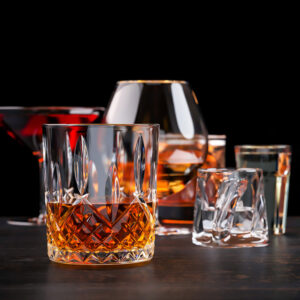 ---
Brandy
Brandy is a liquor that is distilled from wine or a fermented fruit mash – like apples, pears, cherries, or different types of berries. The name brandy originates from the Dutch word brandewijn, which translates to "burnt wine".

---
Liqueurs
Liqueurs are sweet, distilled spirits with added sweeteners.
---
Gin
Gin is a refreshing and crisp white spirit that is made from the distillation of grains like barley, corn and/or rye. Gin is flavored with hints of juniper berries, coriander, angelica, herbs and spices as well as a variety of other natural ingredients. Gin has become a staple ingredient in various modern day cocktails and recipes, such as the martini and the gin and tonic.

---
Rum
Rum is one of the world's oldest spirits and is known for it's spicy, bold flavor. With origins in The Caribbean, Jamaica, and Puerto Rico, rum is distilled from the extracted juice of the ever-abundant sugar cane plant. From here, the rum is aged in charred oak casks, giving it a golden to dark brown color, dependent upon how long the aging process lasts, which can be anywhere between 1-30 years, although it rarely exceeds 15 years.
Unique Brands We Carry:
---
Tequila
Tequila is a Mexican liquor that is distilled from the juice of the blue agave plant. The juices are extracted from the heart of the plant and distilled twice. Tequila is world renowned for it's unique taste and guaranteed good time!
Unique Brands We Carry: 
Patron Platinum Tequila
Patron Burdeos Tequila
Avion Reserva 44 Tequila
Don Julio 1942 Tequila
Cabo Wabo Uno Anejo Tequila
---
Vodka
Vodka is a clear liquor made from ethyl alcohol. It lacks color, and normally has very little taste or aroma. Vodka is the versatile base ingredient for many cocktails, mixed drinks, and alcoholic beverages today.
---
Cognac
Cognac is a renowned french brandy that is made by the distillation of white wine.
Unique Brands We Carry: 
Hennessy 250th Anniversary Bottle
Hennessy Ricard Cognac
Hennessy Paradis Extra Cognac
Hennessy Paradis Imperial Rare Cognac
Hennessy XO Cognac
Remy Martin Louis XIII Cognac
Remy Martin XO Cognac
Courvoisier XO Cognac
Martell Cognac
Bourbon
Bourbon is a type of American Whiskey that is derived primarily from corn. Whiskey Bourbon holds a particularly high reputation in Kentucky and is a favored drink among Southerners. 
Unique Brands We Carry:
Angels Envy Bourbon (Coming Soon!)
Jefferson's The Manhattan Bourbon
Jefferson's Ocean: Aged at Sea Bourbon
Wild Turkey Diamond Anniversary Bourbon
Evan Williams Single Barrel Bourbon
Four Roses Single Barrel Bourbon
Old Forester Single Barrel Bourbon
Buffalo Trace Single Barrel Bourbon
* All are handpicked bourbon barrels. 
---
Whiskey
Whiskey is distilled in oak casks, which gives each whiskey it's unique color and aroma. Whiskey is made from various grains like barley, wheat, corn and rye.
Unique Brands We Carry:
Yellow Spot
Crown Royal – Northern Rye Whiskey
Crown Royal Hand Selected Barrel Canadian Whiskey – Bottled Exclusively for BPS
High West Spirits
Balcones Texas Whisky
Whistle Pig Straight Rye (Coming Soon!)
Jefferson's 25 year Rye Whiskey
Amador Straight Hop Whiskey
Lock Stock $ Barrel 13 year Rye Whiskey
Stranahan's Colorado Whiskey
Tin Cup American Whiskey
Jameson Vintage Irish Whiskey
Knappogue Irish Single Malt Whiskey
George Dickel 14 & 9year Single Barrel Tennessee Whisky
Jack Daniels Single Barrel Tennessee Whisky
---
Scotch
Scotch Whiskey, typically referred to as "scotch," is a malt or grain whiskey that is made in Scotland and is derived from malted barley. 
Unique Brands We Carry:
Kilchoman
Arran Scotch
Glenlivet 18, 21, & 25 year Scotch
Glenmorangie 18 & 25 year Scotch
Chivas Regal Royal Salute
Chivas Regal 21 year Scotch
Chivas Regal 25 year Ultra Scotch
Buchanan's 21 year Red Seal Scotch
---
Hooch
Hooch, a new take on the classic distillery process to create your perfect craft cocktail. Hooch can be used to accent your favorite cocktail or dinner dish or alone as a wonderful refreshing beverage. 
Unique Brands We Carry: