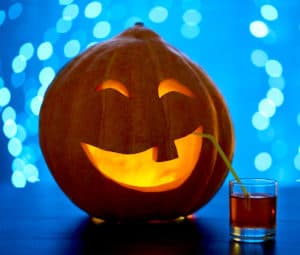 Bill wants to help you have a frighteningly good Halloween with the help of these cocktails!
If you're hosting this year's Halloween bash, you'll want to brush up on your bartending skills so your guests are haunted by boring drinks. Pump up the volume this Halloween with these festive drinks! Bill's Package Store has all you'll need to make sure this year's party is a thriller of a good time! Break out those costumes and get ready to BOOgie!
Bloody Orange Cocktail by HGTV.com
Ingredients:
4 oz. Vodka
2 oz. Licor43
8 oz. Orangina or 1:3 orange juice to club soda
3 oz. raspberry syrup
1 orange
Plastic syringes (Available at party stores)
Directions:
Puree 2 C. of fresh raspberries in a food processor. Press the puree through a fine mesh strainer to extract the pulp, then discard the seeds.
Place the puree in a small saucepan with ¼ C. of sugar. Heat over medium-low heat, stirring frequently until thick and dark (about 10 minutes) and let cool.
Fill each syringe with .75 oz. of raspberry syrup and set aside.
Add vodka and Licor43 to a shaker with ice, shake until very cold (about 20 seconds). Add Orangina and stir.
Pour into iced gladded and place filled syringes in the drink.
Add an orange slice for garnish.
Smoking Skulls by HGTV.com
Ingredients:
1 oz. bourbon
½ oz. lime juice
¼ oz. grenadine
Splash of Mountain Dew
Dry ice chips, for presentation (optional)
Note: Always observe dry ice safety measures. Never touch dry ice with bare skin and do not swallow.
Directions:
Pour bourbon, lime juice, and grenadine into a shaker over ice.
Shake well and drain into a shot glass.
Drop dry ice chips into the shot glass and top with Mountain Dew.
Note: Dry ice chips will sink to the bottom of the shot glass. Do not swallow them, wait until the dry ice has evaporated to consume the drink.
The Brain Cocktail by HGTV.com
Ingredients:
1 ½ oz. peach Schnapps
1 /2 oz. Bailey's Irish cream
grenadine
Directions:
Pour peach Schnapps into a glass.
Slowly add Bailey's Irish cream and top with a dash of grenadine.
---
Halloween means costumes and cocktails… and candy! Come to see us for all the ingredients you'll need to make your Halloween party haunt your guests with excitement and fun! We're conveniently located on Ft. Campbell Blvd and also open on Sunday's from 10am-11pm! From spirits to wine, we've got something for everyone…21 and older!