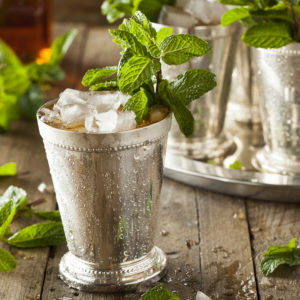 Derby Day is May 5th! If you don't love the standard Mint Julep, there are plenty of other drinks fit for Kentucky Derby royalty. Here are some of our favorites that you can easily make at home.
Mandarin Mint Julep
Ingredients:
1.5 ounces of bourbon
8 mint leaves
3 mandarin oranges, juiced
mandarin orange, segmented
1/2 mandarin orange, segmented
1 cup of ice, crushed
 Elderflower Old Fashioned
Ingredients:
¼ teaspoon sugar
1 oz St. Elder Liqueur
2 oz bourbon
Ice
Sparkling water
Orange peel
Small white flowers for garnish (optional)
Sweet Tea Cocktail
Ingredients:
6 ounces (3/4 cup) brewed orange pekoe tea, cooled
3 ounces (1/3 cup) whiskey
1 1/2 ounces (3 tablespoons) Simple Syrup
1 ounce (2 tablespoons) fresh lemon juice
Ice
2 lemon slices, preferably organic, for garnish
The Brown Derby (De Rigueur)
Ingredients:
1½ oz whiskey
1 oz fresh grapefruit juice
⅓ oz honey syrup (2:1)
Mint Blulep
Ingredients:
2.5oz Bourbon
.75 Maraschino
.25oz St. Elder liqueur
1brspn Creme Yvette
2 dashes Peach Bitters
12 Blueberries
10 Mint Leaves
2 Mint Sprigs
Blueberries (garnish)
Anyone of these recipes is sure to please your guests at your Derby Day Party.  For more recipes, check out more Bill's Package Store blogs at Bill's Buzz. And isn't it nice that you have Bill's Package Store to help you with all your spirit requirements? They offer superior quality, top-shelf brands of your favorite liquors and wine at the lowest prices in Clarksville, TN. Call (931)647-5566 or visit at 1651 Fort Campbell Blvd Clarksville, TN 37042.
---
Source:
https://vinepair.com/wine-blog/beyond-the-mint-julep-11-droolworthy-kentucky-derby-cocktails/