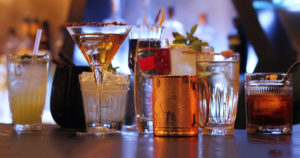 Bills Package Store wants you to be up on the latest, but also adhere to the basics in cocktail making.
Here is Bill's list of most popular drinks:
THE CLASSIC MARTINI
Ingredients:
3 oz. gin or vodka
1/2 oz. dry vermouth
Garnish with an olive
MARGARITA
Ingredients:
2 oz. silver tequila
1 oz. Cointreau
1 oz. lime juice
Course salt for the rim
MANHATTAN
Ingredients:
2 oz. bourbon or rye
1 oz.sweet vermouth
2 dashes bitters
MOSCOW MULE
Ingredients:
2 oz. vodka (or bourbon for a Kentucky mule)
4 to 6 oz. ginger beer
1/2 oz. lime juice
SCOTCH NEAT
Ingredients:
The best scotch you can afford
GIN AND TONIC
Ingredients:
2 oz. gin
4 oz. tonic
1 lime wedge
OLD FASHIONED
Ingredients:
2 oz. bourbon or rye whisky
1 sugar cube
2 dashes bitters
Garnish with an orange twist
BEER
Ingredients:
Beer
Maybe an orange wedge (if you order a wheat of course)
WINE
Ingredients:
Wine
Good conversation (vino veritas after all)
BOURBON, NEAT OR ON THE ROCKS
Ingredients:
And isn't it nice that you have Bill's Package Store to help you with all your spirit requirements? They offer superior quality, top-shelf brands of your favorite liquors and wine at the lowest prices in Clarksville, TN. Call (931)647-5566 or visit at 1651 Fort Campbell Blvd Clarksville, TN 37042.
---
Source: http://www.esquire.com/food-drink/drinks/g215/popular-bar-drinks-0609/