Stay warm this winter with these cocktails from Bill's Package Store that will help warm the soul
Enjoy these hot cocktails to warm the soul while sitting around the campfire, nestled in front of the fireplace, or after being outside in the cold.
Hot Negroni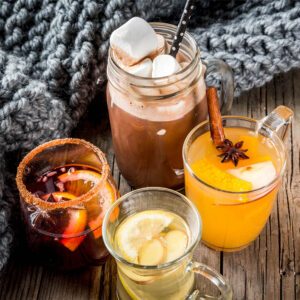 Hot gin is a centuries' old tradition.
Ingredients:
Directions:
Pour the first three ingredients into a mug and stir.

Brew the tea, strain, and pour into the mug to top.

Garnish with an orange slice.
The Ginger Toddy
Ingredients:
2 oz.

Rum

6 oz. hot ginger tea

1 cinnamon stick

3 cloves

½ oz. lemon juice

½ oz. maple syrup

Lemon twist
Directions:
Add 6 oz. of water, one bag of ginger tea, cinnamon stick, and three cloves to a pot and bring to a boil.

Add lemon juice and maple syrup and strain into a warm mug.

Add 2 oz. of rum and stir.

Garnish with a lemon twist.
Spiked Hot Chocolate
Ingredients:
1.5 oz.

spirit of choice*

1 cup whole milk (oat, almond, or coconut milk works well too)

2 oz. bittersweet chocolate, chopped (or chocolate chips)
Directions:
In a small saucepan over medium-low heat, heat the milk until very hot, but not boiling.

Add the chocolate and let stand until melted.

Whisk until smooth, then add the spirit, whisk again, and give it another quick bit of heat to warm it up.

Add to a warm mug and enjoy.
* You can make this recipe with rum, bourbon, scotch, brandy, or tequila. You can even add coffee liqueur for a bit of bite.
You'll find the right spirit for all your cocktail recipes at Bill's Package Store!
At Bill's Package Store, we offer superior quality, top-shelf brands of your favorite liquors and wine at the lowest prices in Clarksville, TN. Call (931) 647-5566 or visit us at 1651 Fort Campbell Blvd Clarksville, TN.