Bill's Package Store has some festive New Year's Eve cocktails for you to try!
Here are a few sparkling New Year's Eve cocktails using the ever-popular NYE drink, champagne, as well as some not-so-bubbly favorites.
French 75
(invented in 1915, it got its name because it was as powerful as a French 75mm field gun)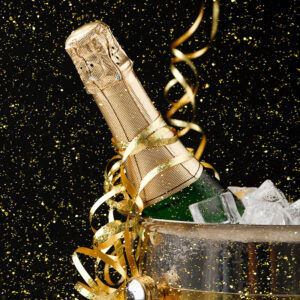 Ingredients:
Directions:
Shake gin, lemon juice, and simple syrup in a cocktail shaker.

Strain into a flute.

Top with champagne.

Add a lemon twist for garnish
Pomegranate Margarita
Ingredients:
Pomegranate juice (bottled or fresh squeezed)

Fresh lime juice

Simple syrup

Pomegranate seeds for garnish
Directions:
Rim a glass with salt (salt enhances the sweet and sour flavors in the drink)

Shake ingredients together with ice in a cocktail shaker.

Strain into a glass and add ice and pomegranate seed as garnish.
And for New Year's Day… the best Bloody Mary!
Ingredients:
Tomato Juice

Lemon Juice

Worcestershire sauce

Tabasco sauce

Celery Salt

Black Pepper
Directions:
Chill the tomato juice and vodka first.

If time allows, put both ingredients in the fridge when you first buy them. If you're short on time, put the vodka in the freezer to get cold faster.

This makes the drink cold without having to use too much ice which can dilute it.

Shake the ingredients in a cocktail shaker.

Add ice to a glass then pour mixture over the ice.

Rim the glass and garnish with a celery stalk or get creative and add a strip of bacon, olives, or whatever else you have on hand!
Need help finding the right New Year's Eve cocktails for your holiday party? Come see us at Bill's Package Store!
At Bill's Package Store, we offer superior quality, top-shelf brands of your favorite liquors and wine at the lowest prices in Clarksville, TN. Call (931) 647-5566 or visit us at 1651 Fort Campbell Blvd Clarksville, TN.