As we celebrate Whiskey Day, Bill's Package Store wants to give you some great ideas for those wonderful concoctions made with Whiskey.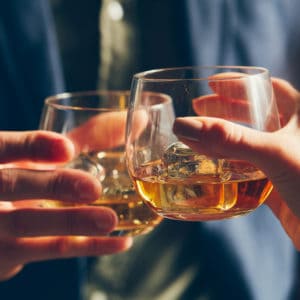 Here are some great whiskey recipes:
Whiskey Paralyzer
1 cup ice cubes

1 fluid ounce of Canadian whiskey, such as

Crown Royal

1 fluid ounce of

Kahlua

or other coffee flavored liqueur

½ cup root beer

2 fluid ounces milk
Directions
Fill a highball glass with ice. Pour in the Canadian Whiskey, coffee liqueur and root beer. Slowly pour in the milk so it does not curdle. Stir gently and enjoy immediately.
Whiskey Sour
3 (12 fluid ounce) cans frozen orange juice concentrate, thawed

1 (12 fluid ounce) can frozen lemonade concentrate, thawed

18 cups water

2 cups whiskey

26 maraschino cherries

26 orange slices for garnish
Directions
In a large pitcher or punch bowl, stir together the orange juice concentrate, lemonade concentrate and water until well blended. Stir in whiskey and garnish with maraschino cherries and orange slices.
Apple Jack
Directions
Pour whiskey into a wide shot glass. Top with apple juice.
From simple to sublime, it's easy to spoil your guests with great cocktails made with whiskey. Especially when your whiskey comes from Bill's Package Store.
For more information about any whiskey, just ask your friendly sales clerk at Bill's Package Store. Bill's offers superior quality, top-shelf brands of your favorite liquors and wine at the lowest prices in Clarksville, TN. Call (931)647-5566 or visit at 1651 Fort Campbell Blvd Clarksville, TN 37042.
---
Source:
All Recipes