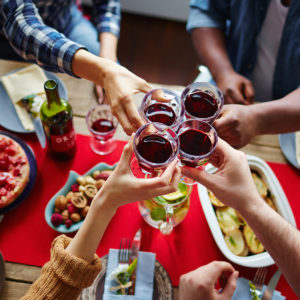 What wine goes with turkey?
Here are some suggestions from Bill's Package Store.
Grenache –
Cherries and cinnamon often team up in Grenache, with a freshness that balances the heft of most turkey menus.
Zinfandel –
Deep, jammy fruit laced with warm spices and chocolate makes Zin a friendly red partner for all things Thanksgiving.
Rosé Sparklers –
Don't abandon the bubbles when the appetizers are gone! Their texture, plus the lovely acidity of sparkling wine and the stealth red fruit that rosé versions harbor, add up to one of the best Thanksgiving matches of all time.
Riesling –
One of the most aromatics of whites, Riesling meets the big flavors of the day with a bushelful of fruit.
Pinot Noir –
With its typical baking spices and red berry flavors, Pinot doesn't just work well with traditional Thanksgiving dishes—it's a seamless extension of what's on the table.
We're all looking for wines that can also handle cranberry sauce and sweet potatoes. But we also want something everyone can start drinking early and keep drinking late—just to, say, survive any family issues that may arise.
Bill's Package Store offers superior quality, top-shelf brands of your favorite liquors and wine at the lowest prices in Clarksville, TN.
---
Source: http://www.sunset.com/food-wine/wine-pairings/great-wines-thanksgiving