Bill's Package Store suggests you have plenty of food and beverage available for your friends as they watch the Big Game… especially the beverage! Here are some great cocktails to make that are sure to please!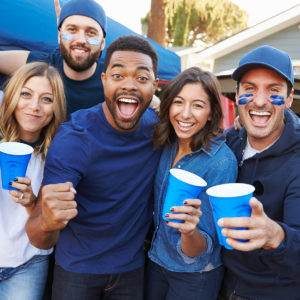 Gina's Super Bowl Punch
Ingredients:
1-liter vodka – Billy recommends Absolut Vodka
three 12-ounce bottles of beer
three 6-ounce containers frozen limeade, thawed
three 1-liter bottles club soda
3 limes, sliced into wheels
Ice, for serving
Lime wedges, for garnish
Directions:
Add the vodka, beer, limeade, and club soda to a large serving container and mix well. Add lime wheels and pour into tall tumblers filled with ice. Garnish each glass with a lime wedge and serve.
Jalapeno Margaritas
Ingredients:
1 small jalapeno pepper (or half a large jalapeno)
1 ½ cups tequila Billy Recommends Patron Tequila.
1 cup Triple Sec
1 cup freshly squeezed lime juice (8 limes)
¼ cup freshly squeezed lemon juice (2 lemons)
2 tablespoons honey
pinch of kosher salt
Ice
Directions:
Pierce the jalapeno in 8 to 10 places with the tip of a sharp paring knife and cut it in half lengthwise, leaving the seed and the ribs. Place the pepper in a 4-cup liquid measuring cup, pour in the tequila, cover with plastic wrap, and allow to sit at room temperature for 24 hours.
Discard the jalapeno and pour the tequila into a pitcher through a sieve to remove the seeds. Add the Triple Sec, lime juice, lemon juice, honey, and salt and stir. Use immediately or cover and refrigerate for up to 6 hours.
When ready to serve, fill 6 margarita glasses with ice and pour over the margarita mixture; or fill a cocktail shaker with ice and some of the mixture, shake vigorously for 30 seconds, and pour into glasses. Serve Ice cold.
Ask one of our knowledgeable sales staff for more recipes. You can check out these brands along with a slew of other great wines and spirits when you stop in at Bill's Package Store.
We offer superior quality, top-shelf brands of your favorite liquors and wine at the lowest prices in Clarksville, TN. Call (931)647-5566 or visit at 1651 Fort Campbell Blvd Clarksville, TN 37042.