Share these Crown Royal® recipes with your football friends.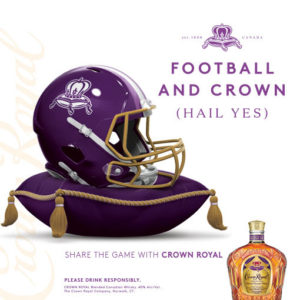 The unmistakable smoothness of Crown Royal® makes it the perfect whiskey for any cocktail.
Check out these fan favorite cocktails:
The Classic Old Fashion
Ingredients:
1 oz. Crown Royal Deluxe Whisky
.25oz. Simple syrup
1-3 dashes Bitters
Instructions:
Glass: Rocks Glass
Combine all ingredients in a mixing glass with ice and stir until chilled
Strain into a rocks glass over fresh ice and garnish with orange twist
Napoleon's Last Stand
Ingredients:
1 oz Crown Royal Deluxe
0.75 oz Pimm's
0.75 oz lemon juice
0.75 oz simple syrup
Instructions:
Glass: Collins Glass
Place all ingredients in a shaker tin.
Add ice and shake.
Strain over fresh ice in Collins glass.
Top off with ginger ale and garnish with slice of cucumber.
Bill's Package store in Clarksville, TN near Ft. Campbell, Ky has all your spirit needs for football season and ANY season.
Recipes courtesy of http://bit.ly/2vOZr0Q