You don't need to know that Smirnoff invented the Moscow Mule or that two brothers used to ship ice from Boston to India for the sake of cool cocktails in order to make these all time favorites. You just need a bottle of Smirnoff and a willingness to mix things and directions to Bill's Package Store.
Click the photo below to watch the this video and find out…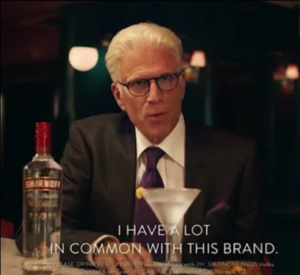 Cosmopolitan
.5. oz. SMIRNOFF® no. 21 Vodka
.5 oz. Triple sec
.5 oz. Lime Juice
1 oz. Cranberry Juice
Shake all the ingredients together well and strain into a cocktail glass.
Kamikaze
1.25 oz. SMIRNOFF® No. 21 Vodka
0.25 oz. Triple sec
0.75 oz. Lime Juice
Add Smirnoff® No. 21 vodka, triple sec, and lime juice or sour mix, shake and strain into a shot glass.
Bill's Package Store has all your spirit needs for all your mixing concoctions.
For more recipes go to: http://smir.nf/2eGDgTx
Ted Danson Video: http://bit.ly/2eYD4mo