Bill's Package Store has some delicious Fall cocktail recipes that are better than a Pumpkin Spice Latte!
Drunken Pumpkin Latte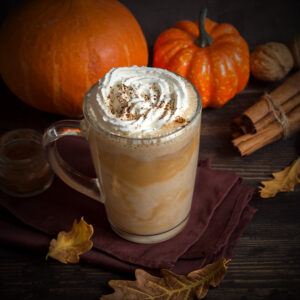 Ingredients:
2 tsp. pumpkin pie spice, divided

3 tsp. granulated sugar, divided

1 lemon wedge

1 ½ cups boiling water

1 tbsp. espresso powder

2 tbsp. sugar

5 oz.

Rumchata

3 oz. vodka

Garnish with whipped cream
Directions:
Combine 1 teaspoon pumpkin pie spice and 1 tablespoon sugar on a small plate. Rim two coffee mugs with the lemon wedge, then dip in sanding sugar and spice mixture.

In a heatproof measuring cup or bowl, stir the espresso powder, the remaining 2 tablespoons sugar, and the remaining teaspoon of pumpkin spice into the boiling water until dissolved. Add Rumchata and Vodka.

Pour into prepared mugs. Top with whipped cream and sprinkle with some of the remaining sugar and spice mixture.
Bill's Package Store recommends Smirnoff's Vodka.
Classic White Russian
Ingredients:
2 oz. Kahlua

2 oz. vodka

2 oz. heavy cream
Directions:
Fill a rocks glass with ice. Pour Kahlua and vodka into glass. Pour heavy cream over top and serve.
Bill's Package Store recommends Tito's Vodka.
Apple Cider Mojitos
Ingredients:
Ice

Juice of 1 lemon

½ cup rum

Apple cider

Mint, for garnish

Apple slices, for garnish

Cinnamon sticks, for garnish
Directions:
Fill 2 glasses with ice. Add the juice of half a lemon to each glass. Divide the rum between the two glasses, then fill ¾ way full with apple cider. Top each with a splash of seltzer and stir to combine. Garnish with mint, thyme, and a slice of apple.
Bill's Package Store recommends Bacardi Rums.
Keep warm during this fall season with these and other fall cocktails. Just ask one of our knowledgeable staff for more recommendations.
We offer superior quality, top-shelf brands of your favorite liquors and wine at the lowest prices in Clarksville, TN. Call (931) 647-5566 or visit us at 1651 Fort Campbell Blvd Clarksville, TN, 37042.