Bill's Package Store gives you the low-down on the best way to pair your favorite wines with food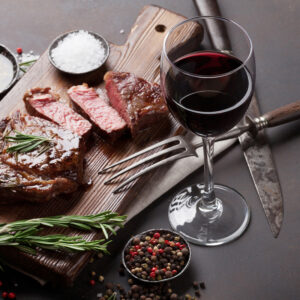 Great food and wine pairings create a balance between the components of a dish and the characteristics of a wine.
Here are the basics:
The wine should be more acidic than food.

The wine should be sweeter than the food.

The wine should have the same flavor intensity as the food.

Red wines pair best with bold-flavored meats:

White wines pair best with light-intensity meats:

Bitter wines (red wines) are best balanced with fat.

White, Sparkling, and Rosé wines create contrasting pairings.

Red wines will create congruent pairings.
Congruent vs Contrasting
A contrasting pairing creates balance by contrasting tastes and flavors.

A congruent pairing creates balance by amplifying shared flavor compounds.
Generally, you can group wines into 3 different categories:
Red wines have more bitterness.

White, Rosé, and sparkling wines have more acidity.

Sweet wines have more sweetness.
Wine and Cheese
If you love wine and cheese, here are some pairings suggestions:
Cabernet Sauvignon & Cheddar

Shiraz & Gouda

Pinot Noir &

Gruyere

Sauvignon Blanc & Goat Cheese

Prosecco &

Asiago

Riesling & Cheese fondue

Chardonnay & Triple Cream Cheese
Consider Intensity – Wine is either light or bold. Here are some examples:
Sauvignon Blanc is light-bodied, but it has a higher acidity.

Chardonnay has more body, but it's usually not too acidic.

Pinot Noir is lighter bodied (for red wine) and it doesn't have too much

Tannin

(bitterness).

Cabernet Sauvignon is more full-bodied and has high tannin (more bitterness)
The basic truth is unless you're having a true wine connoisseur over for dinner, just serve whatever wine you prefer. Just remember that Bill's Package Store is your go-to place to find your favorites from the great selection on hand.
We offer superior quality, top-shelf brands of your favorite liquors and wine at the lowest prices in Clarksville, TN. Call (931) 647-5566 or visit us at 1651 Fort Campbell Blvd Clarksville, TN, 37042.