Bill's Package Store is excited to bring you once again the most exciting Holiday Cocktails as 2019 comes to an end.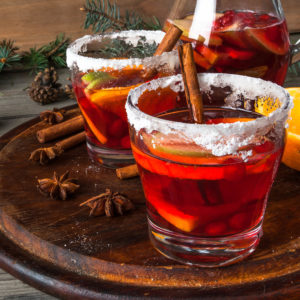 Christmas Sangria
Rosemary, cranberries and apple make this sangria the perfect Christmas drink that goes with any holiday meal!
Ingredients:
2 bottles of Pinot Grigio or Chardonnay
¾ cup sparkling apple cider
¼ cup sugar
¼ cup cranberries
halved ¾ cup cranberries
whole 1 Granny Smith, apple, chopped
3 rosemary sprigs
Instructions:
Combine all ingredients in a large pitcher.
Stir together with a large wooden spoon to help the sugar dissolve.
Refrigerate for a least 4 hours before serving.
Serve chilled with a garnish of rosemary sprigs. Make sure to get some of the fruit in every glass!
Bill's Package Store recommends Woodbridge Pinot Grigio.
Campfire Cocktail
This recipe is "Christmas in a Glass"!
Ingredients:
1 marshmallow
1 tbsp. Chocolate syrup
1 tbsp graham cracker crumbs
Ice
1 oz. vodka
2 oz. baileys
2 oz. 2% milk
Instructions:
Place your marshmallow in a small pan, over medium heat, and toast until browned (1-2 minutes).
Meanwhile, rim a lowball glass with chocolate sauce, and dip immediately in graham cracker crumbs.
Fill your cocktail shaker with ice, toss in the vodka and bailey's and shake vigorously (the longer, the better. It should be FREEZING cold and well agitated).
Place 2-3 ice cubes in your glass, pour liquor mixture over top. Fill the rest of the glass with milk, top with toasted marshmallow and enjoy!
Note: Multiply the recipe how many times you'd like, depending on how many cocktails you're making.
Bill's Package Store recommends Smirnoff Vodka and of course, Bailey's Irish Cream.
And since Bailey's Irish Cream is a great holiday addition to any recipe, here a link to some more great recipes from Bailey's.
These are just a couple of recipes for your holiday parties, but Bill's Package Store has all the wine and spirits you'll need for the upcoming holidays. Come see us on Ft. Campbell Blvd. in Clarksville, TN. Our friendly and helpful staff is here to help you make the best selections to make all your holiday cocktail dreams come true!