What's Christmas without cookies? And Bill's Package Store says, what are cookies without a good spirit?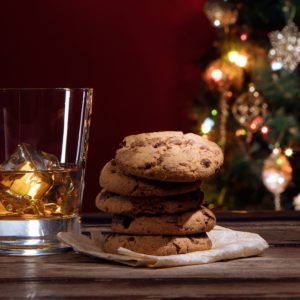 This is one of our favorite cookie recipes:
Chocolate Chips Cookies with Tennessee Whiskey
Ingredients:
2 ½ cups all-purpose flour
1 teaspoon baking soda
1 teaspoon salt
1 cup butter, softened
1 cup white sugar
1 cup firmly packed brown sugar
2 eggs, beaten
1 tablespoon Tennessee Whiskey*
1 teaspoon vanilla extract
1 (12 ounce) bag semi-sweet chocolate chips
Preheat oven to 350 degrees F (175 degrees C)
sift flour, baking soda, and salt together into a bowl.
beat butter, white sugar, and brown sugar together in a large bowl with an electric mixer until smooth. Beat the first egg into the butter until completely blended; beat in the second egg. Add whiskey and vanilla extract; beat until smooth.
Mix flour mixture into creamed butter mixture until just incorporated; fold in chocolate chips. Form dough into 1-inch balls and place on a baking sheet, 1 to 2 inches apart.
Bake in the preheated oven until edges are lightly browned, 9 to 12 minutes. Transfer cookies to a wire rack to cool.
*  Bill's Package Store recommends using Jack Daniels Tennessee Whiskey.
Ask one of our knowledgeable sales staff for more recipes. Or we suggest Yummly for some other great bourbon and whiskey cookie recipes.
* You can check out this brand along with a slew of other great wines and spirits when you stop in at Bill's Package Store.
We offer superior quality, top-shelf brands of your favorite liquors and wine at the lowest prices in Clarksville, TN. Call (931) 647-5566 or visit at 1651 Fort Campbell Blvd Clarksville, TN 37042.