This is a famous secret recipe handed down from generations and is now available only to customers of Bill's Package Store. (this is a big fat lie!)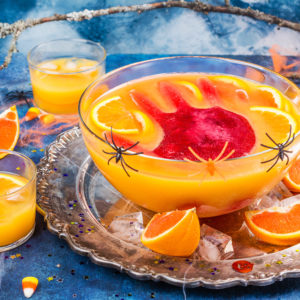 But truly, the recipes for these "Bowles" are traditionally passed down from grandparents to grandchildren. One of the highlights of any German harvest festival or Oktoberfest party is the "Bowle". BTW, "Bowle" is just a fancy word for fruit punch. Even though Oktoberfest is known for beer, the bowle is a refreshing alternative for your party-goers.
Here is a sample of famous German recipes for a Bowle:
Melon Bowle With Pear

Ingredients:

1 large orange-fleshed melon

2 bottles of white wine*

2 cups sliced pear very ripe

1 tsp peppermint extract

fresh mint leaves or garnish

coarse or raw sugar for garnish
Cut the top off of the melon. Remove the seeds and carve out the melon flesh. In a glass bowl, pour 4 cups wine mixed with 3 tablespoons of the sugar over the melon flesh (cut into cubes or balled) and 1 cup of pear slices. Cover the bowl with saran wrap. Allow wine and fruit to soak in the refrigerator for 6 – 8 hours.
To prepare the bowle, remove the melon bowl from the refrigerator and an unopened bottle of wine. Carefully dip the cut edge of the top of the melon in honey. Set a honeyed edge on a paper plate covered in coarse or sanding sugar to transfer crystals. Turn melon upright.
Fill the melon ½ full with the wine and add peppermint extract. Very carefully spoon the chilled wine-soaked fruit into the melon to a good height.
Garnish with fresh mint leaves.
It is proper to serve with clear picks (a garnish of a single piece of melon with a pick inserted) for those who enjoy eating the soaked fruit.
There are also recipes for a spooky bowle for Halloween with a variety of fruit juices and liqueurs. You can check them out HERE!
*For the white wine, Bill's suggests a Gallo "sweet peach" wine.
Ask one of our knowledgeable sales staff for more recipes.
*You can check out these brands along with a slew of other great wines and spirits when you stop in at Bill's Package Store.
We offer superior quality, top-shelf brands of your favorite liquors and wine at the lowest prices in Clarksville, TN. Call (931)647-5566 or visit at 1651 Fort Campbell Blvd Clarksville, TN 37042.