Summer is officially here! And what better way to celebrate than with a few recipes from Bill's Package Store
Whether it's for a BBQ party or just something to sip on during a warm summer evening, here are a few ideas to get you going.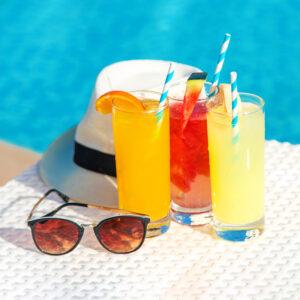 Frozen Strawberry Daiquiri
Ingredients:
14 oz. hulled and frozen strawberries

3 ½ oz. white rum*

4 tbsp sugar

The zest and juice of 1 lime
Directions:
Whiz the strawberries in a blender with the rum, sugar, and lime zest, and juice until slushy but still frozen.

Pour into glasses and serve immediately.
So easy and simple but so delicious and refreshing!
*Bill's Package Store recommends Bacardi Rum.
Frozen Espresso Martini
Ingredients:
4 oz. espresso, chilled

2 oz. vodka*

2 oz. Kahlua

2 tsp

caster

sugar

1 cup ice cubes

6 coffee beans, to garnish
Preparation:
Put all ingredients, except the coffee beans into a blender and blend until smooth.

Let it settle for a couple of minutes, then divide between 2 large martini glasses and top them with the coffee beans.
Perfect for the coffee-lover in all of us!
*Bill's Package Store recommends Tito's Vodka.
Frozen Gin Fizz
Ingredients:
1 ½ cups traditional lemonade

½ cup gin*

2 tsp. caster sugar

Juice of ½ lemon, plus slices to garnish
Preparation:
Pour lemonade into a medium baking dish or Tupperware and freeze for at least 6 hrs, or overnight.

Break frozen lemonade into clumps, place in a blender with gin and sugar and blend to a slush consistency.

Divide between 2 highball glasses and garnish each with a lemon slice.
Pucker up for great refreshment!
*Bill's Package Store recommends using Seagram's Gin.
We hope you enjoy your summer and these refreshing cocktails. Be sure to visit Bill's Package Store for all your spirit needs.
We offer superior quality, top-shelf brands of your favorite liquors and wine at the lowest prices in Clarksville, TN. Call (931) 647-5566 or visit us at 1651 Fort Campbell Blvd Clarksville, TN, 37042.