The French say it's made from l'eau de vie ("the water of life"), but we can certainly tell you more about this French form of brandy.
But what is Cognac?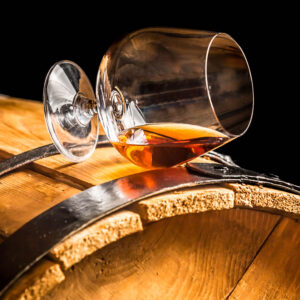 First of all it's made from white grapes grown across both the Charente and Charente-Maritime departments of western France.

Cognac is actually a protected category of brandy.

Above all, it must meet the requirements of the

appellation

d'origine contrôllée

(AOC).

It also must meet the strict regulations much like champagne. (As we know, it cannot be called champagne unless it comes from Champagne wine region of France).
How it's made:
First, the grapes are fermented for five to seven days.

The resulting wine is between 8.5% and 9.5% alcohol by volume.

Next, it is distilled twice in copper pot stills.

Then, it is aged in either Limousin or Troncais oak barrels for at least two years.

Finally, it is blended with cognacs of varying ages and qualities to create the final product.
How to drink it:
Although the older reserve cognacs are great for sipping neat, some prefer adding a drop or two of water to open them up.

Younger cognacs can be used both for mixing or as a base of many classic cocktails:

The Sidecar

1 ½ ounces cognac

¾ ounce orange liquor (such as Cointreau)

¾ ounce lemon juice, freshly squeezed

garnish with orange twist

Between the Sheets

1 ounce cognac

1 ounce light rum

1 ounce triple sec

¼ ounce lemon juice, freshly squeezed

garnished with a flamed orange peel

The original

Mint Julep

The French typically enjoy their preferred pour with both a splash of soda water and ice.
Bill's Package Store carries a wide variety of Cognacs and suggests you try Hennessy Cognac. To learn more about any wine or spirits, ask our friendly and knowledgeable staff at Bill's Package Store.
---
At Bill's Package Store, we offer superior quality, top-shelf brands of your favorite liquors and wine at the lowest prices in Clarksville, TN. Call (931) 647-5566 or visit us at 1651 Fort Campbell Blvd Clarksville, TN.
Tags:
Bill's Package Store
,
Bill's Package Store Hours
,
clarksville
,
clarksville tn
,
cognac
,
Fort Campbell Liquor Store