The movie, "Pirates of the Caribbean" had Johnny Depp say those immortal words, "Where's all the rum gone?" To which we reply… it's at Bill's Package Store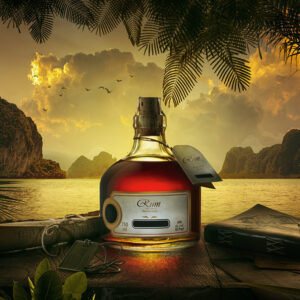 What is rum?
Rum is made from fermented sugarcane juice, cane syrup, or molasses that is distilled to become alcohol at about 80 proof or higher.
It was first made by the colonists in the Caribbean in the 1600s. 
Legend has it that it was discovered when a Barbadian slave dipped his spoon into a tray of leftover molasses that has spent weeks in the hot sun.
It's been said, "If rum was your friend, it would be the fun one."
Every area that produces rum is known for certain cocktails and one of the most recognizable drinks is Bermuda's Dark 'n' Stormy.
The Perfect Dark 'N' Stormy:
Ingredients:
2 oz. dark rum*

3 oz. ginger beer

½ oz. lime juice
Directions:
Combine the rum, ginger beer, and lime juice in a Collins glass full of ice cubes.

Stir gently.

Garnish with a lime wedge and add a straw.
* Bill's Package Store recommends using Captain Morgan
Rum Vocabulary:
Amber or gold

is aged at least three years.

Dark

is aged five years or longer.

Blackstrap

is very sweet and heavy.

Spiced

rum is infused with spices such as nutmeg, cinnamon, and peppercorn.
Visit the complete Rum Guide for more information and here for detailed recipes.
For a great selection of rum and other spirits, come visit us at Bill's Package Store. If you're not sure about your selection, just ask one of our knowledgeable, friendly staff members for assistance.
We offer superior quality, top-shelf brands of your favorite liquors and wine at the lowest prices in Clarksville, TN. Call (931) 647-5566 or visit us at 1651 Fort Campbell Blvd Clarksville, TN, 37042.