Which translates to "black pine". Bill's Package Store is not picky about how you pronounce it. We just call it that "good red wine."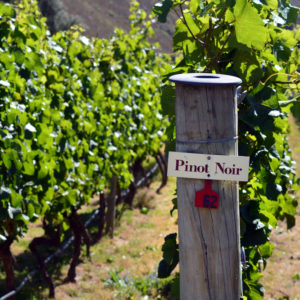 Ahhhh, the sweet smell of freshly fallen damp leaves and mushrooms! Believe it or not, that's how some wine experts describe Pinot Noir. Of course, you also get the flavors of ripe red berries and sweet black cherries.
Originally from Burgundy, France, the winemakers in Napa Valley, California brag that it's the only place that great Pinot Noir can be made. But, they also say that in blind taste tests, even savvy wine collectors can confuse Burgundy and California Pinot Noir.
And now for the more "Hoyte Toyte" folks, here's some cool information:
A traditionally dry wine, Pinot Noir emits hints of bright red fruit on the palate and through its aromas.
The signature characteristics are a red-fruit-driven lighter velvety feel with low tannins.
The signature aromas include cherry, chalk & clay and light oak & smoke.
Pinot Noir produces a heavily perfumed wine with scents of earth, spice, cherries, herbs, and raspberries when ripe.
Pinot Noir pairs well with steak, grilled pork, salmon, aged cheddar and gouda cheese.
So, now that that's out of the way…
If you want to find out more about the wines and champagnes that Bill's carries, go the website here and then click on each name brand to get more information about their wines.
One of Bill's favorite Pinot Noirs is Meiomi (pronounced may-OH-mee). You can check out this brand along with a slew of other great wines when you stop in at Bill's Package Store.
They offer superior quality, top-shelf brands of your favorite liquors and wine at the lowest prices in Clarksville, TN. Call (931)647-5566 or visit at 1651 Fort Campbell Blvd Clarksville, TN 37042.