Warmer weather calls for cool refreshing drinks.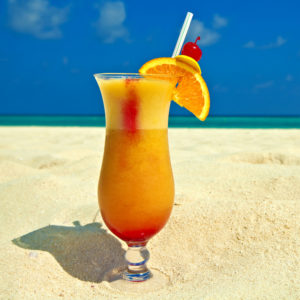 Bill's Package Store has a list of favorite summer cocktails for you to try.
We all have our favorite cocktail, but sometimes you need to shake things up, especially in the summertime. Your drink of choice for a cozy quiet bar might be different from those poolside treats. Here are some common drink recipes that can be made uncommon with the correct ingredients:
Daiquiri
Ingredients:
2 oz. white rum
½ tsp. superfine sugar
½ oz. lime juice
Directions: Squeeze the lime into your shaker, stir in the sugar, and then add the rum. Shake well with cracked ice, then strain into a chilled cocktail glass.
Bill's Rum suggestion: Tiburon Rum
John the Beachcomber
Ingredients:
1 oz. light rum
1 oz. barrel-aged rum
1 oz. 151 proof rum (optional)
.5 oz. allspice dram
.5 oz. grenadine
.75 oz. pineapple juice
.5 oz. lime juice
Directions: Shake ingredients vigorously with ice. Pour over more ice in festive glassware. Garnish with straws, fruit, umbrellas, cocktail toothpicks, flags, sparklers, and whatever else you might have floating around in that kitchen junk drawer. Locate chair. Take it easy.
Bill's Rum suggestion: Captain Morgan Spiced Rum
Classic Margarita
Ingredients:
2 oz. silver tequila
1 oz. cointreau
1 oz. lime juice
coarse salt
Directions; Chill a cocktail glass, and then rub its rim with lime juice and dip it in coarse salt. Add tequila, cointreau, lime juice, and ice together in a cocktail shaker. Shake and then strain into the glass over ice.
Bill's Tequila suggestion: Patron Platinum Tequila
Bill also suggests any cocktail made with Gin.
Gin is a refreshing and crisp spirit. It's great for a hot summer day with a refreshing Gin and Tonic with a lime wedge.
For more recipes, check out more Bill's Package Store blogs at Bill's Buzz. And isn't it nice that you have Bill's Package Store to help you with all your spirit requirements? They offer superior quality, top-shelf brands of your favorite liquors and wine at the lowest prices in Clarksville, TN. Call (931)647-5566 or visit at 1651 Fort Campbell Blvd Clarksville, TN 37042.